(An excerpt from the memoir I wrote for my kids)
Go Dog Go was one of my favorite books as a boy, and it was so fun reading it to my kids when they were little. I especially loved the dog party scene at the end of the book, and would often point to trees with a similar shape and say to my kids, "Dog Party!" When we'd get to this page with all the dogs piled in bed, I'd ask them… "Which one's Daddy, kids?" And they'd point to the only dog still awake and say, "That's you Daddy," then I'd tickle them, and we'd giggle and laugh.
That picture has been me recently. For the last few weeks, I thought I was pretty much done with this Storyworth project… but I had a nagging feeling that there was something important to add, especially considering this chaotic time in history. So, I was lying in bed the other night, tossing ideas around in my head like a load of laundry in the drier, when the subject for these final pages gradually came into focus.
Over the years, I've worked hard to try and develop my knack for assembling language in ways that had laser like precision but that could also blur dividing lines and soften hard edges. It's not much of a talent but valuable for a professional communicator and for building teams and running companies… offering language to help people buy into ideas, create agreement, and anchor to solid ground. I hope I can do that for you with the following important issues.
In 2006, Baylor University took a national survey to discover how people viewed God. Surprisingly, they found that only 5% of those surveyed claimed to be atheists; only 23% viewed God as loving and benevolent, and a whopping 72% pictured God as authoritarian, critical, and distant. As I've said repeatedly in this book, there's nothing more important about you than what comes into your mind and heart when you think about and/or picture who God is and what God is like. Well, as it turns out, like science & technology in general, brain science has come a long way in the last 20 years.
The list of brain scientists and neuroscientists who have arrived at the same conclusions discovered gets longer each year. Take Dr. Timothy Jennings, Dr. Carolyn Leaf, and Dr. Andrew Newberg, for example, to name just three. It was Dr. Jennings, a Seventh-Day Adventist, by the way, who wrote in his book, "The God-Shaped Brain," that the mental picture of the God you worship changes your brain. He discovered that the beautiful pictures of who God is are healthy for the brain, while the fear-based images of God actually cause brain damage. That our relationships with God and other people flow from those pictures, and so does the quality of our personal transformation. He wrote that our personal transformation would not outrun the picture of who we think God is. When we worship a god who is angry, punitive, authoritarian, critical, or distant, the fear circuits in our brains are activated, resulting in chronic inflammation, which damages our brains and our bodies. Truly, we become what we behold, not only in our character but in our neural circuitry.
Take the subject of atonement theory, for instance. There have been at least seven attempts to explain how the death of Jesus Christ made things right with God. There's the Moral Influence theory, Ransom theory, Christus Victor, Satisfaction theory (Anselm), Penal Substitutionary theory, Governmental theory, and Scapegoat theory. All of them require certain pictures of God to be held. Take the one I, and most people I know, were raised with as an example: Penal substitutionary atonement theory. Within this explanation of the atonement is the belief that God will hold unregenerate people in existence for all eternity for the sole purpose of punishing, torturing and tormenting them. If that outcome is true, what does that say about the character of God? Well, I couldn't harmonize the Jesus I knew with the violent, harsh portraits of God, and my internal anxiety tended to leak out, especially around people who hadn't thought much about it but parroted what they'd been taught like it was gospel truth.
These are some of the issues that drove me to find out what the Fathers of the early church thought. Neuroscience has proven that the beautiful picture of God that we see in Jesus Christ is the true picture of who God is because it results in a healthy brain. On the other hand, if the angry, punishing, tormenting, controlling, and fear-based pictures of God are true, then THAT god designed your brain to be damaged by the reality of who he is because brain damage is exactly what happens when you hold that view.
I realize some people, maybe even most people, don't think this deeply about things, which is okay; I've just never been like that. My intention is for you to benefit from my study and efforts. The truth is, I only wrestle with stuff up to a certain point and ultimately don't lean on my understanding because there's a big difference between having well-thought-out beliefs and having faith. It's like the difference between paper law and trial law (from A Few Good Men, haha) or having a detailed map unfurled on the kitchen table versus actually venturing into the real terrain. The map isn't the same as the territory. Belief is like your plan heading into a boxing match. Faith is how you keep going after you've been punched in the face.
So, I've been sitting here in Sisters, Oregon, which has been a lovely, memorable season of life but also another in a series of closing windows. As the days have become months, I've labored for the words and ways to coalesce a lifetime of thought and struggle into language that will help you navigate and live your best lives.
One of the perks of reading widely has been, on occasion, running across ideations and quotations so breathtaking and perfect in their simplicity that they stick to your memory like honey for the mind. Some even touch things that run deeper than memory, evoking a sense of nostalgia, a Greek word that means the pain from an old wound, and a longing we all have that nothing on earth satisfies. Nostalgia is that twinge in our hearts taking us to a place we ache to go again, where we know we are loved… home.
I've read that one of the implications of being created in God's image is that, by design, and like a homing device, we're oriented toward truth, goodness, and beauty, which will eventually draw all of us back to God (Romans 11:36). That at the deepest level of our being, whatever the material objects are that we desire when reduced to their essence, the truth, goodness, and beauty of those things are simply the refracted light of the one source of truth, goodness, and beauty… our Triune God. As image bearers, our actual orientation is for union with God. I believe that with all my heart. And that given a long enough timeline, all of God's image bearers will return to God because to see truth, goodness, and beauty truly… is to desire them. Not to desire them… is to have never seen or known them… and, therefore, never to have been free to choose them. I believe God will make sure everyone is free to choose him without being coerced.
The Hebrew prophet Isaiah preached this idea 750 years before the incarnation, and St. Paul repeated it to the believers in Rome and Philippi… "By Myself, I have sworn; truth has gone out from My mouth, a word that will not be revoked: Every knee will bow before Me, every tongue will swear allegiance." (Isaiah 45:23)
Almost two centuries ago, a Russian novelist breathed a profound thought through the mouth of a Prince, "Beauty will save the world," he said. Fifty years earlier, from the pen of a noetic British poet, we're told, "Beauty is truth, truth beauty—that is all ye know on earth and all ye need to know." My part-time hero, St. Augustine, fourteen hundred years earlier still, wept a mournful confession to God, saying, "Late have I loved you, beauty so old and so new."
Although concealed by translators, this recurring theme of beauty is prominent in the opening paragraphs of Genesis in the subtle but forceful refrain, "And God saw that it was good." This thought contains the delicate yet potent Hebrew word "towb," used to describe the daughters of men, and Isaac's betrothed, Rebekah, as "beautiful."
I think this translation hints at the epic love story to follow, and the tone of the whole chapter changes to a different key upon hearing God declare the light, the sun, the flora, and fauna to be beautiful. Then, after creating mankind in his image… you can almost sense God drawing a deep breath, and as he exhales while surveying the finished work of his hands… He declares that all of it is "very beautiful."
Anthony Bloom, the former Metropolitan Bishop of the Russian Orthodox Church in Great Britain, said, "Every one of us is in the image of God, but every one of us is like a damaged icon. If we were given an icon damaged by time, by circumstances, or desecrated by human hatred, we would treat it with reverence, tenderness, with broken-heartedness. We would not pay attention primarily to the fact that it is damaged but to the tragedy of its being damaged. We would concentrate on what's left of its beauty and not on what's been lost of its beauty. We must learn to look and look until we have seen the underlying beauty in people; only then can we call out the beauty that remains."
Similarly, there's a beautiful and insightful Japanese philosophy and art form called Kintsugi, which means "joining with gold." It's the art of repairing fragmented pottery by mending broken or shattered pieces with lacquer mixed with powdered gold. As a philosophy, it sees the fragmented pieces and their repair as an important part of the history of an object and worthy of celebrating rather than something to discard or disguise.
Beauty has indeed saved and will save the world as it has saved me and will yet save me. Over my lifetime, I gradually became aware that in my deep and shattered brokenness, I required a theology that was deeper still… and more beautiful.
These final chapters include a sampling of some deeply satisfying and beautiful theology. I hope to give you something fun, enlightening, and beautiful with adequate language to equip you to help mend shattered people.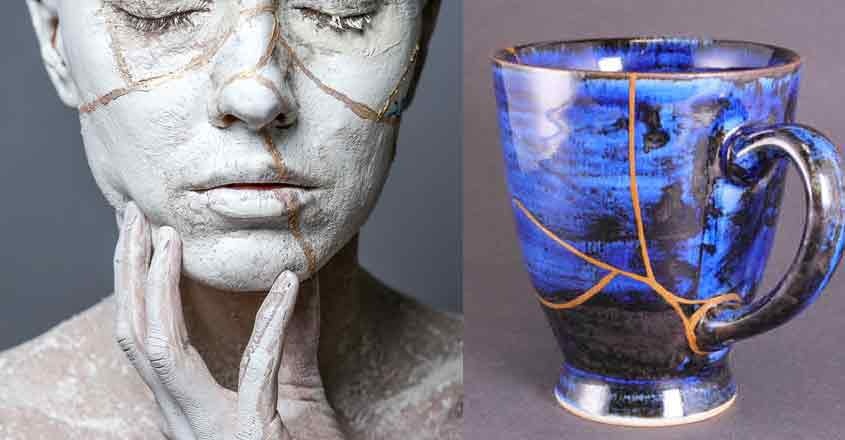 First, some crucial scriptural starting points:
"If you abide in My word, you are My disciples indeed, and you shall know the truth, and the truth shall make you free." (John 8:31-32)
"His divine power has granted to us all things that pertain to life and godliness, through the knowledge of him who called us to his own glory and excellence." (2 Peter 1:3)
"In your hearts honor Jesus Christ the Lord as holy, always being prepared to make a defense to anyone who asks you for a 'well thought out explanation' for the hope that is in you; yet do it with gentleness and respect." (1 Peter 3:15)
"Although we still live in this world, we are waging no worldly warfare. The weapons we fight with are not human weapons but divine weapons to overthrow strong fortresses. We destroy sophisticated arguments and every exalted and proud thing that sets itself up against the true knowledge of God." (2 Corinthians 10:4-5)
The Kingdom of God is not of this world, nor is its warfare or weaponry. Jesus Christ is our armor, and the entire New Testament is saturated with that idea. Jesus is the truth (John 14:6); he's our righteousness (1 Corinthians. 1:30), our peace (Ephesians. 2:14), our salvation (Luke 2:30), and his Word is our sword (Ephesians 6:17).
These pictures harmonize with the OT, where the Lord is declared to be our salvation and our righteousness (Exodus. 15:2; Jeremiah. 23:6) and perfectly consistent with Paul's thought that we should put on Jesus Christ… to clothe ourselves in him (Romans 13:14; Galatians 3:27). Toward the end of Pauls's life, he was occasionally bound in chains to a Roman guard with ample time to study his Roman armor. The warfare worldview I've adopted for a primary lens is a clear subtext in the New Testament, so it's not farfetched to imagine Paul thought about that armor in terms of who Jesus Christ is. Before moving on to theodicy, I'll comment on two pieces of first-century Roman armor and their spiritual application.
The typical first-century soldier wore a loose, knee-length tunic cinched at the waist by a thick, wide leather belt, similar to a weightlifter's belt. Although the word 'belt' is not in verse 14, the phrase "girding round your loins" is, and it has a Hebrew flavor suggesting tightening or fastening your belt to prepare for action. In those days, to smite someone's loins was a fatal blow, so girding your loins could be the difference between life and death. As any athlete will tell you, the hips are the largest and strongest joints in your body, and the midsection generates the most torque and power in hand-to-hand combat. The belt also had a weighted apron with tassels to protect the groin from cheap shots and was the foundational piece of armor, which is probably why St. Paul lists it first. He calls it "the belt of truth," or girding your loins with truth. Being anchored by truth will protect you and support your spine, and believe me, you'll need plenty of backbone to stand against the enemy in the days ahead, especially when the truth is under full-scale assault, including the Gospel.
When St. Paul mentioned the shield of faith, he said, "Above all else, taking the shield of faith with which you will be able to extinguish all of the fiery darts of the wicked one" (Ephesians 6:16). The Roman shield stood 4 feet tall, 2½ feet wide, and weighed about 25 lbs. It was more like a portable wall than a standard shield. It isn't the only armor used to deflect the enemy, as the helmet and breastplate also provide protection, but the shield is meant to blunt, halt or slow an attack and to keep it from reaching your head or heart, which are the most vulnerable battlegrounds.
Spiritual warfare has significantly ramped up in the last number of years. It should be very clear to you by now that you're in a real battle. Jesus promised you would encounter tribulation… the feeling of being cornered, hemmed in, squeezed, placed under immense pressure, or crushed beneath a weight. The original idea expressed the sheer physical pressure on a man, not minor inconveniences… real hardship, and not for the faint of heart.
Here, I turn to TF Torrance, who taught me that God has provided for our sometimes weak and feeble grip on His hand by placing it firmly within His strong grip on us. Jesus said, "And I give them eternal life, and they shall never perish; neither shall anyone snatch them out of My hand. My Father, who has given them to Me, is greater than all; and no one is able to snatch them out of My Father's hand." (John 10:29) I keep this picture below on my phone and comfort myself with it because it reminds me of my kids and me, and of me and the abba of Jesus. But, here's the thing, God has not clothed and armed us with himself so that nothing bad will happen to us or things will always work out how we think they should. As much as we prefer smooth sailing where God answers our prayers how and when we want, that's just not how it works, and let me assure you, it's for sure not how prayer works. More on prayer later.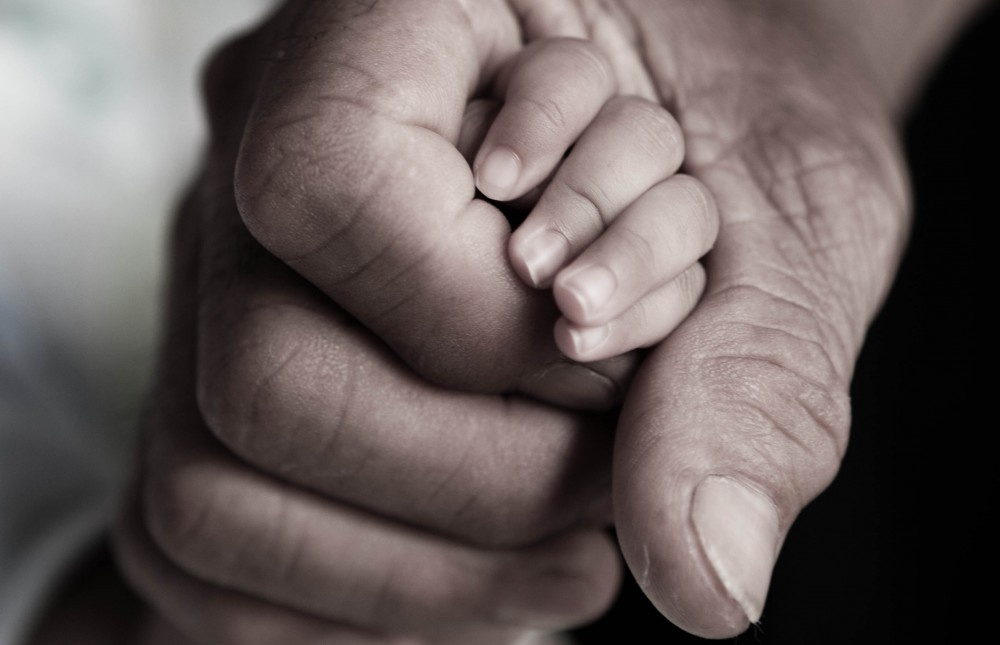 At some point in your lives, either from other voices or in your own heart, you're going to encounter questions, doubt, or even unbelief about the character of God, the effectiveness of prayer, and the realities of pain, suffering, and evil compared to the confession of our faith. Namely, that God is good (Mark 10:18) and that God is love and desires to save the world (John 3:16-17). That the historical reality of the life, death, resurrection, and ascension of Jesus Christ were the decisive blows in a cosmic war (1 Corinthians 2:7-8 & Colossians 2:15). That God has already given us everything pertaining to life and godliness (2 Peter 1:3), and that He is active in this world through the Holy Spirit, who has been and continues to be poured out on all flesh with the clearly stated intent to draw all men to Jesus (John 12:32; Acts 2:17 & Romans 11:32).
The inevitable questions about God's character and trustworthiness require that you settle some things once and for all… to choose sides, and remain loyal. Some questions about God's character can be rooted in a core belief that the basis for relating to God is not unconditional… but is essentially a simple contract… quid-pro-quo. If I do X, then God will do Y; it's an easy trap to fall into. So, my darling kids, and grandkids… settle this in your hearts and minds: Salvation is not gained by moral perfection, so salvation cannot be lost by moral imperfection… what is not gained by performance cannot be lost by poor performance. Lock this in… another beautiful thought from TF Torrance; Jesus Christ is the all-sufficient human response to God. Our responses to God absolutely matter, but our best and weakest responses are both enveloped within the perfect human response of Jesus Christ. This is incarnational and trinitarian theology. Let me lay out some more beautiful thoughts from Karl Barth, Torrance & church Fathers before returning to the tension between the conditions and the unconditional covenant.
Regarding the conflict between the righteousness of God and human sin, Karl Barth wrote that Jesus Christ "took this conflict into his own being (as fully divine and fully human) and bore that conflict in himself to the bitter end… that Jesus took part in that conflict from both sides and endured it from both sides." This is why we can confidently say that Jesus Christ fulfilled the covenant from God's side and from our side… both as our creator moving toward man and as the representative man responding perfectly to God. Jesus Christ is the Word of God made flesh bearing down on man, but he was also man hearing that Word, answering it, trusting it, living by it—by his faith. This is why in Galatians 2:20 and elsewhere, Paul can say with a straight face, "I am crucified with Christ: nevertheless I live; yet not I… but Christ liveth in me: and the life which I now live in the flesh I live by the faith of the Son of God, who loved me and gave himself for me. My faith matters, but it's the faith of Jesus Christ, as man… my substitute and representative, that I draw from to live my best life.
That means Jesus Christ is the true believer who vicariously believed in our place and name. In becoming one with us, he grabbed ahold of our rebellious fallen human will, made it his own, and then bent it back into obedience to unbroken unity with God. The writer of Hebrews put it this way… "In the days of His humanity, He offered up both prayers and pleas with loud crying and tears to the One able to save Him from death, and He was heard because of His devout behavior." Jesus knew and was intimately familiar with our human plight. Was Jesus incarnated in fallen or unfallen human flesh? This is a controversial question. If Jesus Christ wore the flesh of an unfallen Adam, then how does he relate to us in our lostness? The early Church Father, St. Gregory the Theologian, said, "The unassumed is the unhealed. If the divine Son did not assume a complete human nature (body, mind, and spirit), then he has not acted to save us, and there is no gospel to be preached and no healing to experience." No… Jesus could only undo Adam by wearing his fallen flesh without sinning in it. For TF Torrance, the incarnation IS the atonement… the person of Jesus Christ as the son of God becoming incarnate and his work as the mediator are one and the same. Athanasius said we shouldn't think dualistically that Jesus was God in man. Rather, the correct way to think of Jesus is God AS man.
Returning to the subject of conditions, if/then thinking, and questions about God's character. It is important for you kids to settle, once and for all that the basis of our standing with God is unconditional. That, from the human side, Jesus has already done all the heavy lifting. So, while it's true that there are many "if/then" statements throughout the Bible with real consequences, thinking about them like clauses in a contract is quicksand and not solid ground to plant your feet on to stand. So… how can conditions exist within an unconditional covenant? To understand the answer, it is important to see the difference between the imperative and indicative moods in the Greek language.
In Greek grammar, "imperative" emphasizes or highlights commands leading to actions carrying good and bad consequences. These are the scary if/then statements throughout the Bible. By contrast, the"indicative" explains what is true; they are statements about facts. Indicatives are not commands, but they do express the rationale behind the command. The imperative commands repose within the indicative facts or realities. For instance, Exodus 20 has the following narrative structure. First, the indicative… You belong to me; I delivered you from slavery, I am your God, and you are my people. Followed by the imperative commands… therefore… I will give you covenanted ways of responding to me and to each other that carry good and bad outcomes.
The indicative tells you who you are and to whom you belong; the imperative has to do with the various behaviors that result from belonging and can lead to or block your ability to enjoy the blessings of belonging to God. The imperative commands repose within the indicative factual statements, like Russian nesting dolls. The conditions don't change who you belong to or the logic of your belonging… the conditions are a sign that you belong. So, let this settle in your hearts, kids: The ground for your relationship with God is God himself. He is the substance of His one-sided covenant made with promises and commitments for the sake of his creatures. Some of those promises and commitments will play out in your lifetimes, and you'll get to see and participate in them. Other promises and commitments will play out after your lives are finished.
In the cosmic warfare worldview that I've adopted, the array of forces and moving parts in play are impossible to comprehend (Read Job 38-42). The point of the book of Job is to teach us that the mystery of evil is a mystery of a war-torn and unfathomably complex creation, not the mystery of God's all-controlling will. The fact that God knows the end from the beginning does not mean God is pulling all the strings. Job anticipated the time we live in. And, while Jesus has already won the decisive battle, the cosmic war continues to be played out, typical of all wars. That reality does not preclude struggle, effort, or controversy. And delay and timing don't detract from the truth, as the issue of slavery in the US demonstrated. Even though slavery legally ended with the Emancipation Proclamation and the 13th Amendment to the Constitution, it took more than a century for it to finish playing out.
We're not meant to sit idly by eating bonbons just because the decisive blows have been struck. We have the full weight of God's authority behind us and the offensive and defensive weapons necessary to engage. But here is the rub… like any soldier, we must be trained to trust God, which is the most crucial piece, and we must also trust in and learn to use our authority and weaponry. None of this happens by itself. And by the way, concerning the trusting God piece, I've discovered that reminding yourself frequently of his exploits, faithfulness & generosity is a good place to start. As I said before, thankfulness… being truly grateful… is an antiseptic for complaining, doubt & unbelief. It's one way to strengthen yourself in the Lord. (1 Samuel 30:6)
One recurring roadblock for some folks regarding trusting God is that the Old and New Testaments seem to describe two entirely different versions of who God is and what He is like. Swiss Theologian Karl Barth helped me with that when he said, "Contemplating the cross tells you everything you need to know about God" and that the cross is"the deepest revelation of God's being, not its contradiction. Jesus Christ is the starting point of all doctrine." This picture of Jesus, combined with Malachi 3:6, which says God doesn't change, gives us a fundamental principle worth memorizing.
So, my dear kids, let this settle in your heart: God is exactly like Jesus Christ. God has always been exactly like Jesus Christ. There has never been a time when God wasn't exactly like Jesus Christ. We haven't always known this… but now we do.
That phrase is one of those things that once you see it, you can't unsee it, and it has a lot of implications. One of them is that the Father, Son & Holy Spirit have always been" incarnational." They've always been willing to stoop down, to humble themselves, and even for their character and ways of being misunderstood and conflated with evil. Over the years, I've encountered fascinating and horrifying explanations for the question of if, how, and why God uses evil to achieve his ends.
In the next chapter on Theodicy, I'll describe some of the attempts that have been made to explain how a good, loving, wise, and all-powerful God coexists with evil, some of my own thoughts on the matter, and the conclusion I've come to. With all my love, Dad